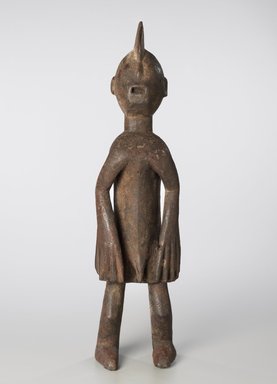 Standing Male Figure
Catalogue Description:
Standing male figure with a flat central crest running down middle/top of the head. Figure has outsized hands, limbs that join the torso at a sharp and irregular angle below an open, gaping mouth, and a severely reduced face, whose only other distinguishing feature is a pair of slightly raised mounds suggesting eyes. The entire work is covered in a fine and even sacrificial patina. Stands on an attached wooden base. Condition: good.
---