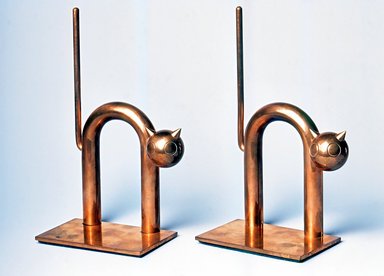 Cat Bookend, One of Pair
Catalogue Description:
One of pair with 1994.156.5. Copper-plated copper alloy bookend in the form of an abstract startled cat standing on a rectangular base. The body/legs are made from a single piece of pipe about 3/4" in diameter bent into an inverted U-shape. A spherical head with large round eyes and two conical ears is affixed on the right side. The tail, joined to the body on the left side, is bent at a right angle away from the body, then points straight up. Underside of base covered with green felt.
---