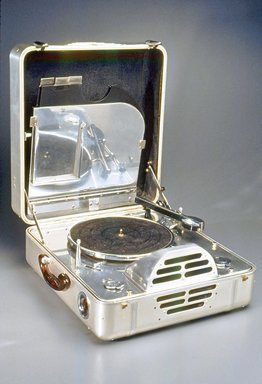 RCA Victor Special Model K, Portable Electric Phonograph
Although aluminum, in which this streamlined phonograph is encased, is taken for granted today as a lightweight, inexpensive material that has many applications, it was only in 1886 that an American, Charles Martin Hall, discovered an electrolytic process that made its commercial production possible. Over the next forty years, aluminum evolved from a laboratory curiosity to an industrial staple. The impetus for its industrial use in the 1920s and 1930s was its combination with various alloys that transformed it from a soft material into a strong, lightweight, pliable one.
Artist: John Vassos (Designer)
Medium: Aluminum, various metals, plastic, felt, leather
Geographical Location: Camden, New Jersey, United States
Dates: ca. 1935
Dimensions: closed: 7 3/4 x 16 1/4 x 17 1/4 in. (19.7 x 41.3 x 43.8 cm)
Markings: Painted in black on metal plate attached to side of case between clasps and above speaker vents: "RCA Victor Special" in script. The number "353" is stamped in two places on the exterior of the case at the right side of the hinge. The inside bottom of the motor compartment has two paper labels affixed to it, one listing all the patent numbers for the phonograph parts and another with a diagram of the motor compartment.
Collection: Decorative Arts
Museum Location: Brooklyn Museum, BMA, EXHIBITION-5, American 5W31
Accession Number: 1995.14
Catalogue Description:
Portable phonograph. Exterior: square aluminum case with rounded corners and edges; mottled brown plastic handle and inset volume control dial at top; two metal clasps and cut-out vents for speaker along one side; two halves of case hinged at other side; four rubber feet on bottom. Surface of case has allover satin polish finish with two highly polished raised decorative bands running across front and sides of case about 4" inches from top and bottom edges. Interior: bottom half of case contains the motor compartment covered by a chrome-plated metal deck with leather strap at one edge; deck supports the turntable, needle arm, semi-domed speaker, and other controls. Turntable is chromed metal lined with black felt; needle arm is black plastic rectangular shaft with oval "head" and metal accents. Lid of case is lined with black plastic imitation leather; contains file holder for records with black sheet metal dividers with plastic tabs at top and silver-colored metal front plate which is hinged along bottom to allow access to records. When case is open, carrying handle is at proper right. The phonograph is battery-operated, and the rectangular battery has been removed. Condition: Good; shows use; scratches and corrosion to metals.
---