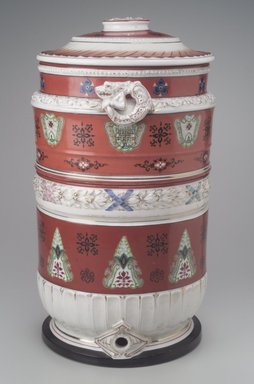 Water Filter
This unusual object is an early water filter that combined the latest decorative style, Japanism, with technological advances. Beginning in the late 1870s, artists and consumers in the United States became fascinated with the arts of "the Orient," which had recently been opened to the West. The internal filter in this object was supplied by the Gate City Stone Filter Company, whose advertisement (see illustration) suggests the growing concern for hygiene in the United States in the nineteenth century. Thomas C. Smith was the head of both Union Porcelain Company, which made the porcelain shell, as well as the filter company that shared the same address in the Greenpoint section of Brooklyn. The water filter, which would have been proudly displayed in the dining room of a private house or in the office of a prosperous business, was produced during the dynamic tenure of Karl Mueller (1820-1887) as chief designer at Union Porcelain Works. A German-trained sculptor, Mueller was hired to create objects to show at the 1876 Centennial Exhibition in Philadelphia.
Artist: Union Porcelain Works (Manufacturer)
Medium: Porcelain
Geographical Location: Greenpoint, Brooklyn, New York, United States
Dates: Patented November 28, 1882
Dimensions: Overall: 20 x 12 1/2 x 11 1/2 in. (50.8 x 31.8 x 29.2 cm) (a) Height of Base: 11 1/4 in. (28.6 cm) (b) Height of Filter Section: 6 7/8 in. (17.5 cm)
Markings: Printed on underside of base (a): in red "UNION / PORCELAIN / WORKS / GREENPOINT / N.Y." within urn, "9 88" below urn; and in green, "U.P.W." above head of an eagle Painted in black on underside of middle (b) near edge: "16"
Collection: Decorative Arts
Museum Location: Brooklyn Museum, BMA, 5Q12-LUCE, Unit 36, Shelf J
Exhibitions:
Accession Number: 1995.143.1a-c
Catalogue Description:
White porcelain water filter with vitreous glaze and polychrome and gilded decorations, consisting of (a) base, (b) filter section, and (c) lid. The three parts stack to form a cylindrical vessel. (a) Base: cylindrical form that rounded at bottom where it tapers to meet foot band; hole for spigot within lozenge in center near bottom; molded garland register around top that is accented with gold and pink, green, and blue painted ribbons; main register decorated with rust-colored ground filled with orientalizing motifs of stylized floral and foliate forms in green, white, pink, maroon, yellow and black; lower register molded into vertical sections accented with gilding. (b) Filter section: cylindrical form with porous limestone bottom for filtering water; wide neck is stepped back from body; two applied handles at neck, each formed by a dragon curled into a ring, accented with red and gold; neck decorated with beaded and gilded band and rust-colored band with tripartite blue flowers; collar has molded foliate forms with gilded accents; main register has rust-colored ground filled with orientalizing motifs of stylized floral and foliate forms in green, white, pink, maroon, yellow, blue, and black. (c) Conforming lid: shallow stepped dome with flat knob finial with molded flower on top. Decorated with rust-colored bands and black and gilded accents.
---