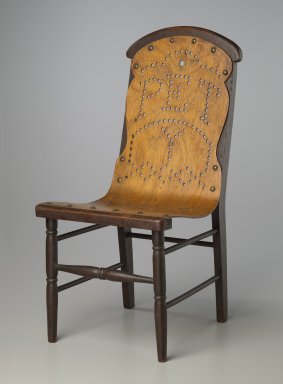 Child's Chair
Gardner was a family-run furniture company that secured several United States patents for its innovated seating furniture. The patent on this chair was for the one-piece plywood seat and back, an early use of this progressive material that would reach its greatest utility in the mid-twentieth century. Patents were of two types: technical patents, like the one here, and design patents. Manufacturers used patents to promote their wares as progressive and novel. Gardner exhibited similar chairs at the Centennial exhibition and garnered awards for their ingenuity.
Catalogue Description:
Doll's or Child's Side Chair: wood, plywood, brass tacks. Two turned front legs with rings in center and near juncture with seat rail are joined by a turned, double-ringed stretcher above midpoint and by a plain front seat rail. Two plain stretchers on each side and one plain stretcher connecting rear legs. Rear stiles form rear legs then cant backward to support back; connected at top by arched crest rail. Back and seat formed by continuous piece of three-ply plywood with shaped edges at back, connected to frame by six brass tacks at front seat rail, six brass tacks at crest rail and two brass tacks at each rear stile near where rear seat rail would be. Seat pierced with star in circle in rectangle; back pierced with the word "PET' below pierced crest and above "Y" under arc. Condition: Some joints loose. Plywood splintered at mid-section of proper right edge of seat. Stain on finish of seat. Some splintering around pierced holes on underside, especially at seat and near central hole near crest. Oxidation to brass tacks. General wear.
---