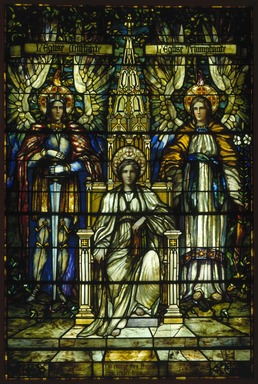 Religion Enthroned
In this window by J. & R. Lamb Studios, Religion is represented by the seated figure in the center.
The archangels on either side, Michael and Gabriel, personify the Church Militant and the Church Triumphant. Behind the Gothic canopied throne, the blues and greens of the Tree of Life make up the background. The text in French at the bottom is from the Book of Revelations: "I have sent my angels to render testimony." The subtle and brilliant colors are achieved by plating, or layering, of glass. The window also illustrates Lamb's unique method of "double-painted" flesh areas, which involved painting two plates of different types of glass with separate colors of vitreous enamel that shine through each other for a rich, lifelike effect.
The window was commissioned by the United States government for the Central U.S. Pavilion in the 1900 Exposition Universelle Internationale in Paris, where it won two medals: the first for execution, and the second for design.
---