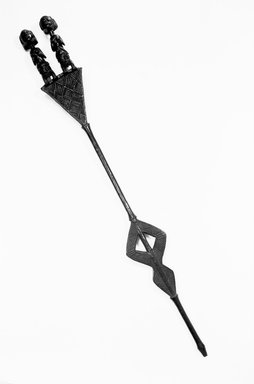 Ceremonial Staff (Kibango)
Many Luba staffs are surmounted by a pair of female figures usually representing powerful spirit mediums. In Luba culture, these figures express a belief in women's powers to connect the worlds of humankind and the spirits.
Catalogue Description:
Ceremonial wooden staff with triangle shape and two female figures at top. The figures clutch their breasts and have scarification marks indicated on their abdomens. The triangle as well as the diamond shapes on the other end are decorated with geometric patterns. Condition is poor. There are two minor splits at the tip of the shaft measuring 1 3/4 in. and 2 1/2 in. long. There are several minor chips on the backs of the figures. There is a chip on the proper left corner of the large triangle near the top. The surface overall is coated with a substance that is shiny, resinous, and slightly sticky.
---