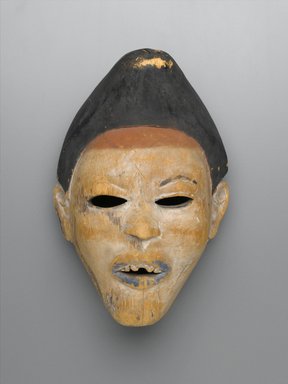 Mask (Nganga Diphombe)
This mask was worn by a nganga, a man who had the power to uncover individuals responsible for witchcraft. The Yombe define a "witch" as a person who either consciously or unconsciously disturbs society's established order, causing, for example, drought, scarcity of game, or illness. The white clay used to color this mask probably represents the spirit of a deceased person. White was also associated by the Yombe with justice, order, truth, invulnerability, and clear insight—all appropriate virtues of the naganga.
Catalogue Description:
Soft wood, anatomically natural mask of an expressive face with openings for almond-shaped eyes and a mouth with deliberately filed teeth; ears have been carved in place. It appears that the front of the face was once entirely covered with white pigment, but presently much is missing. There is a strong area of red-brown pigment across the top of the forehead and at the sides of the mask. The lips are painted blue, but much of the pigment there is lost, especially on the upper lip. The eyebrows were originally denoted by carved lines and filled-in blue and black pigment. There are remnants of pigment in the proper left eyebrow but only tiny traces of blue on the proper right eyebrow. The hair area, in general, is uniformly covered in black pigment. There are losses, however, and the color varies from matte to shiny. The mask contains some material losses on the edges. Within the mask are nicks and scratches overall. The mask is in fair condition.
---