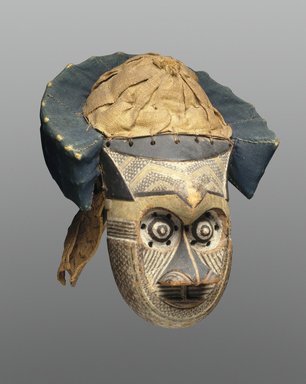 Mask (Pwoom Itok)
One of the principal Kuba dance masks is called Pwoon Itok. The chief identifying characteristic is the shape of the eyes, whose centers are cones surrounded by holes through which the wearer sees. These masks, like many Kuba masks, are extensively polychromed or multicolored. This example has a cane headdress covered with raffia cloth with painted designs and detached wooden ears. The top of the headdress was probably originally adorned with feathers, imitating headdress worn by high-ranking persons. Pwoom Itok masks are worn by members of the Babende society, who are responsible for apprehending criminals.
Catalogue Description:
Dance mask with polychrome geometric facial decoration. Round recessed eyes with cone shaped centers surrounded by holes for seeing out by wearer. Headdress covered by raffia cloth with painted designs. Attached wooden ears. The fragile raffia material has been stabilized. The mask's wood is in fair condition. Surfaces are abraded throughout.
---