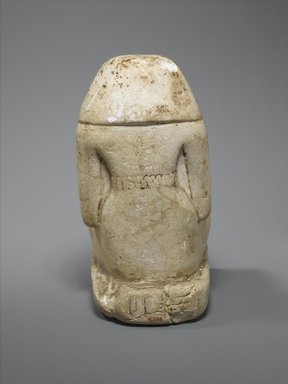 Statuette of Sennefer
Catalogue Description:
Small limestone statuette of a seated man wearing long kilt, conventional wig, legs crossed in front, arms extended on thighs, palms down. Oblong base rounded at back. Inscriptions on kilt and base. Inscription very badly cut. Inscription on base very peculiar and is apparently meaningless. Face is of very late type. Kilt of Middle Kingdom type. Condition: Base chipped, broken at rear with small portions missing. Extensive areas of statue have peculiar brown stains, which do not appear to be the remains of paint; surface of piece worn. Poor workmanship.
---