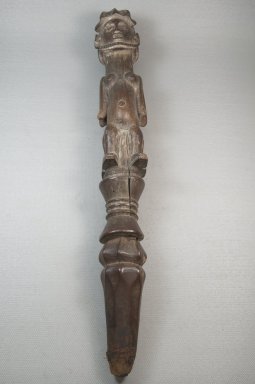 Staff-Rattle (Ntafu Maluangu)
Catalogue Description:
Carved, standing Janus figure, light hardwood, staff-rattle. One side male, the other female. Both have bottoms of chins with scarification marks; headdresses that are mushroom-shaped; and ears in the forms of question marks. Male holds stick upright in hands in front of body. Running along one side, between the two bodies, is a large crack; several other cracks are on the staff below the Janus figure.
---