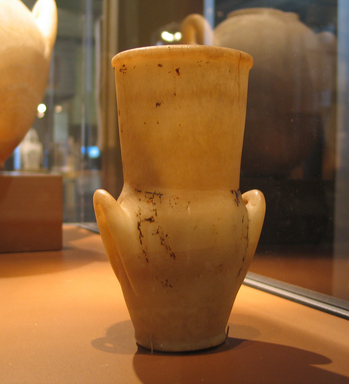 Amphora with Painted Floral Collar
Catalogue Description:
Amphora, with ovoid body, on low flattened disk-foot, with wide, very high, slightly flaring neck, offset from body, wide mouth with torus-lip. On either side of shoulder an engaged handle, staple-shaped, with a circular perforation at top. Waxy alabaster of rather poor quality. Painted decoration, now almost entirely gone, of a "broad collar" on body, and probably a broad band around neck. Condition: A chip in lip. Six thin cracks running down from lip. Painting reduced to traces.
---