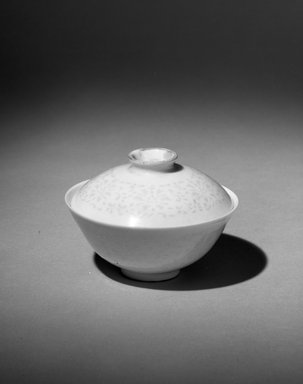 Bowl and Cover
This bowl and cover are an example of the translucent and delicate Chinese porcelain known as linlong. Yet the decoration of linglong ware, which dates to the Qianlong era (1736—1795), is believed to have been inspired by that of Iranian "Gombroon" ware, since no such objects were produced in China until the reign of Qianlong. The fragile, lace-like porcelain—known as the "rice- grain porcelain of China"—was produced by piercing rice grain–sized holes into the body of the vessel while the clay was still soft, filling the holes with a clear glaze, and then firing the object to create a translucent pattern.
This object exemplifies techniques developed by diverse Silk Route cultures to reproduce at home products and craftsmanship made familiar through travel and trade.
Medium: "Linglong" exquisite porcelain with translucent white glaze
Geographical Location: Jiangxi, China
Dates: 1736-1795
Dynasty: Qing Dynasty
Period: Qianlong Period
Dimensions: 3 x 4 5/16 in. (7.6 x 11 cm)
Markings: The bases of both bowl and cover have six character Qianlong seal marks written in underglaze blue.
Collection: Asian Art
Museum Location: Brooklyn Museum, BMA, 5H19, 8B
Accession Number: 32.1178a-b
Catalogue Description:
Everted mouth; tapering body; circular foot. Includes knobbed cover. Bowl's body and surface of cover are carved with floral sprigs. Upper section of knob and lower section of circular foot are unglazed. Clear glaze covers entire vessel. Tea ware. Condition: Intact Old Accession Card: Bowl and cover, the bowl with a low foot and rounded sides, and the cover of inverted saucer shape with a low spreading foot. White glazed porcelain, both bowl and cover decorated with bands of stylized flowers and leaves cut through the paste and later covered up by the glaze, a type of decoration known as rice grain. The bases of both bowl and cover are glazed white and have six character Ch'ien Lung seal marks written in underglaze blue.
---