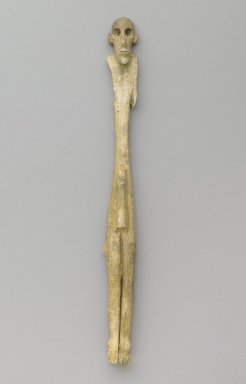 Figure of a Man
This flat, extremely elongated figure wears only a penis sheath. The arms, now mostly lost, originally extended down along the figure's body. Inlays of another material once filled the vacant eyeholes.
Catalogue Description:
Free-standing elongated ivory figure of a man wearing a so-called Libyan sheath. Eyes circular and originally inlaid. Prominent ears, elongated face. Legs entirely in the round. Few details indicated on body. Arms, now missing, were very elongated, extending down well onto thighs. Condition: Arms missing. Inlay of eyes missing. Back of head missing.
---