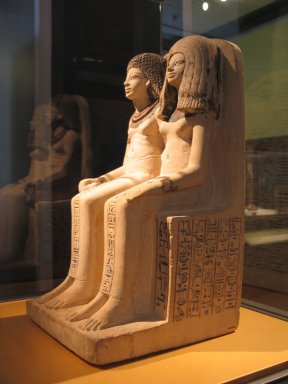 Pair Statue of Nebsen and Nebet-ta
Catalogue Description:
Painted limestone double statue of Neb-sen and his sister-wife, Nebet-ta. Figures seated on common seat with rounded plinth behind. Inscribed on plinth, sides and front of seat and down centers of skirts. Elaborate wigs and necklaces. Condition: General condition good with various minor surface chips. Upper left front of seat chipped. Plinth chipped at edges. Extensive remains of paint in various places, particularly around heads and in hieroglyphs and on plinth.
---