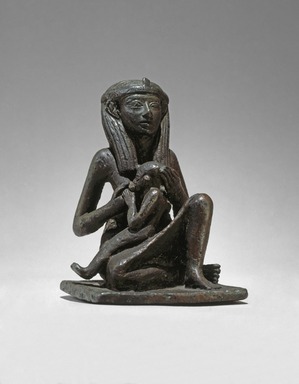 Princess Sobeknakht Suckling a Prince
Beginning in the Middle Kingdom, craftsmen demonstrated great skill in designing and manufacturing metal statuary. This copper statuette, representing a woman suckling a male child, is considered among the finest of these sculptures. The inscription on the base identifies the subject as the "hereditary noblewoman" Sobeknakht; her fillet and uraeus-cobra show that she is a princess. The figure may have been commissioned to celebrate the birth of a prince, to signal a reigning king's devotion to his mother, or to reflect Sobeknakht's wish for divine help in conceiving a child who would become Egypt's king.
Catalogue Description:
Copper figurine of seated woman suckling child. The woman clad in a short garment sits on the ground with the left knee raised and the right leg folded under her with foot protruding from in back of the left ankle. She holds a nude child to the right breast. The base consists of a thin, bronze placque, on the front of which is scratched an inscription, which seems to read: AbC. T't s'bk-nht m 3 't-h2w "the Princess Sebek-nakht, the justified." Condition: Tip of nose slightly rubbed.
---