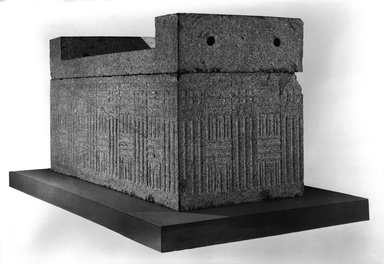 Sarcophagus with Separate Cover
Found in a royal tomb, this sarcophagus, or monumental coffin, housed the mummy of a prince or his wife. A pattern of niches imitating the designs on palace walls decorates its surface, alluding to the sarcophagus's function as the deceased's final home. Holes drilled in each end of the lid allowed poles or ropes to be inserted in order to carry it and position to be inserted in order to carry it and position it on the box.
Catalogue Description:
Red granite sarcophagus with separate cover. No inscription. Facade panelling around all exterior surfaces of box. Upright, running full width at each end of cover, each with two drill holes. Cover undecorated and perhaps unfinished. Rebate on under-side of cover. Probably belonging to prince Akhet-hotep. Condition: Three corners of box chipped. Scattered chips along base. Lower edge of cover chipped. General condition excellent. Very slight remains of paint along upper borders of box.
---