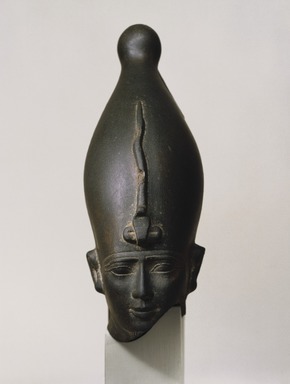 Head of the God Osiris
Figures of the god Osiris are particularly common from the Late Period (circa 664–332 B.C.). The craftsmanship of this figure is of a very high standard, the head executed virtually without fault. The bland and benign expression of the face is characteristic of work after the beginning of Dynasty XXVI. That the false beard is attached under the chin and does not envelop it suggests a dating in the second half of the dynasty.
Catalogue Description:
Green slate head of a king (or Osiris?) wearing White Crown on front of which is uraeus with long body. Remains of curled beard with strap. Conventionalized features, eyebrows in high relief, short puckered mouth. Fine quality. At back uninscribed plinth of obelisk form. Condition: Preserved portion intact. Face is preserved to chin. Lower left side of face lost.
---