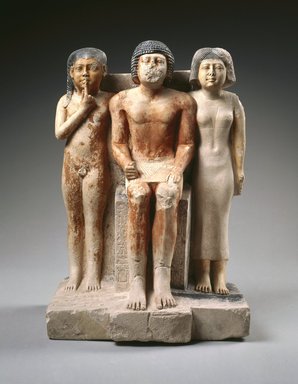 Statue of Nykara and his Family
Catalogue Description:
Painted limestone triad. In center, seated, the [crossed out: overseer] inspector of the scribes of the granary, Ni-ka-re; at his left, standing, his wife, the royal relative, Ni-ka.w-nb (.w); on opposite side standing figure of (his son), the scribe of the granary, Ankh-ma-re, naked, with right hand to mouth. Plinth at rear running up to center of heads. Inscribed (copy in vertical file) single column on each side of seat and two lines on base in front of each standing figure. Condition: Poor. All heads broken from bodies. Head of central figure damaged; other two heads more or less damaged. Front part of base broken in several pieces. Minor chips. Considerable loss of color.
---