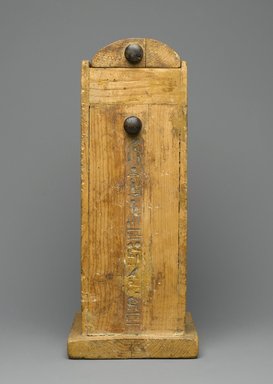 Shabty Box of Amunemhat
Catalogue Description:
Wooden ushabti box (A) of the scribe of Grain Reckoning, Amenemhet. Box in the shape of shrine, apparently of cedar with one knob on front of cover, another on front of box, apparently of ebony. Single column of incised inscription on each side of box and on cover. Rear edge of cover cut at angle to look under similar piece on rim of box. Condition: Apparently good. The small rectangular pieces at top of front and back possibly new. Names inserted anciently after original inscription was obliterated.
---