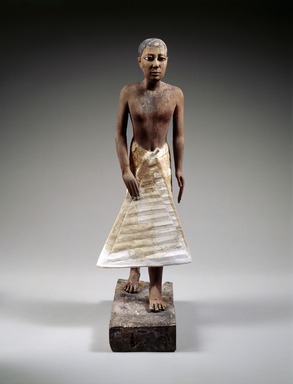 Statue of Metjetji
Metjetji, the subject of this statue, is shown in later life, with the long kilt of a senior official and, as viewed from the side, a rather flabby torso. The expensive addition of inlaid stone eyes with copper rims suggests that this one was considered the most important of Metjetji's statues. A large head, big eyes, and very long fingers often appear on statues of this time; here they seem to suggest wisdom and maturity.
Catalogue Description:
Standing wooden statue of Mtty (Methethy). Conventional pose, left leg advanced, left arm pendant at side, right hand clutches fold of long pleated skirt with thumb on inner side of fold. Hair (no headdress) indicated by black paint. Eyes inlaid in obsidian and alabaster outlined in copper. Only clothing is long gesso skirt with flaring triangular front, horizontally pleated. Rectangular base with incised inscription in two lines across front of top surface. Condition: Most of gesso lost from kilt. Some cracks in wood, especially on left side of face and hands. Body was painted light red, hair black. Feet considerably decayed.
---