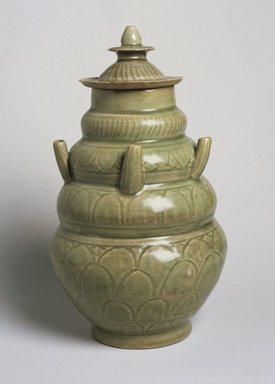 Covered Funeral Vase
Rows of carved lotus petals cover this Funeral Vase, reflecting the Chinese assimilation of non-Chinese motifs introduced along with the Buddhist religion. Although this Funeral Vase's exact function has not been determined, there may be links to grain offering jars found in Song tombs in southern China. The shape itself, with so-called spouts on the shoulder, may derive from burial jars in the form of bamboo roots with shoots protruding from the sides.
Catalogue Description:
Multi-tubed vase: Straight mouth; 4 jointed body with constricted waist and drumlike belly; top of 3rd register has 5 tubes; tubes are decorative-not open to belly. "Wu guan" and "wu gu" has similar sound; for funerary grain storage. Curved incised patterns on coverÕs surface and 1st register of body. 2nd register has overturned lotus petals. 3rd and 4th registers is like lotus pattern. Lotus is a sacred Buddhist flower, and may have connections with Buddhism. Knob on cover is modeled after a lotus pod. Blue-green glaze on lid's surface and vessel's interior and exterior. Lid's interior, rim's interior, and base of circular foot are unglazed. Foot has a mark of firing encircling the base. Funerary ware (accompanying deceased). Condition: Basically intact. Many chips on mouth rim and lid's rim. Repair on the upper section of one spout.
---