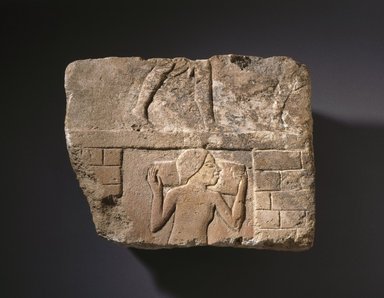 Man Carrying a Talatat
These two adjoining blocks depict stonemasons and laborers constructing one of Amunhotep IV's shrines to the Aten at Karnak. At the lower left is a figure carrying either a bag or a sandstone block, called a talatat, to the construction site. Above him, three other workmen walk on a wooden beam separating the unfinished walls. The group of men in the lower right may be listening to instructions from an unseen overseer.
Catalogue Description:
Fragment of limestone relief with remains of two registers. On upper register in raised relief, legs of two men (soldiers?) running to right. Lower register also in raised relief. Man with bag on shoulders in a doorway; probably the first in a row of bearers, some of which in a row on another block in the same group of reliefs. Joins Brooklyn 86.132. Condition: Very incomplete. Upper register badly eroded. Scattered remains of original red paint on all bodies, particularly orange-red on face of man.
---