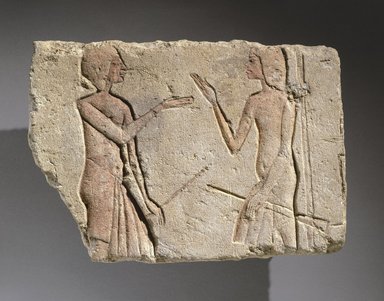 Relief of Men Talking
These two men wear costumes and carry clubs that identify them as guards or policemen. They are probably engaged in a spirited discussion, or perhaps an argument. Note how the artist represented them gesturing with their hands, as if each were trying to emphasize his point.
Catalogue Description:
Fragment of limestone relief. In sunk relief, two policemen (or soldier?) in conversation, facing. Plain wigs, long skirts with flaring, pleated triangular fronts. Right hand of each extended with police stick clasped in left hand. Dividing line at right end with faint traces of still another scene at extreme right. Poor work. Condition: Incomplete. Scattered chips. Red paint on all worked surfaces, apparently water paint and new.
---