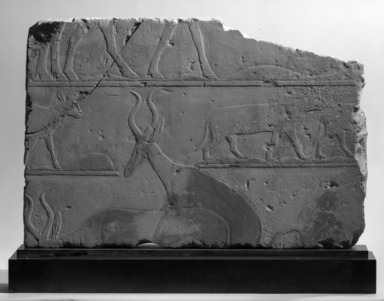 Relief with Desert Animals
This fragment—originally part of a large hunting scene—shows desert animals breeding in their wild habitat. To the right, a wild feline noses after his mate. At lower left, a male antelope, mounting his mate, rears his head into the row above. The four female legs and two male hind legs of two other antelopes are visible at the upper left. At the lower right, the hindquarters of an antelope giving birth and the emerging head of her calf are partly preserved. The bovine calf at center left completes this depiction of the cycle of life, which, by being represented in the tomb, achieved eternal significance for the Egyptians.
Catalogue Description:
Rectangular slab of fine white limestone with the remains of three registers depicting animals of the desert on a hilly terrain in very low relief. Traces of brown and red color. Register (1) has three pairs of ungulate feet facing left; register (2) has on the left a calf and on the right two panthers, the register being broken by the head of the male bubalis from below; register (3) has two mating bubales on the left and hindquarters of an animal giving birth to a young on the right. Condition: Chipped and marred in spots; right upper corner missing; bottom, top and left side ancient, right side fragmentary. Calcite deposits.
---