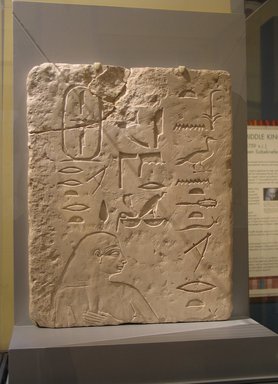 Relief of Princess Khekeret-nebty
The column of hieroglyphs to the right of this depiction of Khekeret-nebty identifies her as "the king's daughter of his body, beloved of him." Her name is written above her head. The cartouche (royal oval) in the upper left names her father, King Isesy. The carving lacks details and the surface was never polished, suggesting that the princess may have died before this relief was completed.
Catalogue Description:
Limestone slab showing in lower left the upper portion of a female figure with hand on chest in low relief. In front and above her, three columns of inscriptions including cartouche of King Isesy in upper left. Somewhat rough workmanship, possibly unfinished; traces of black working lines, column one (right) discolored. Slab has original edges on all four sides; back modernly cut. Owner's name is to be read Hkrt-nbty. Condition: Back very unevenly cut; large chip missing from top front. Minor chip and scratches.
---