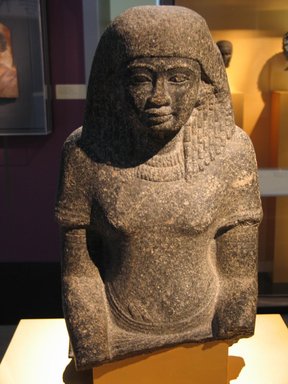 Head and Bust from a Seated Statue
Clothing, jewelry, and objects like staffs and scepters—all part of what art historians call iconography—provide clues about individuals represented in sculpture and other works of art. Because certain iconographic features like costumes changed frequently they can also reveal when an object was created. If we know when a type of wig or garment was popular, for example, we can place a statue with that feature within a very limited time span. The elaborate style of wig seen here, with its twin masses of corkscrew curls, first appeared in the Eighteenth Dynasty reign of Amunhotep III (circa 1390–1352 B.C.) and remained fashionable for only a few generations. A faint inscription on the statue's right arm confirms this dating and also tells us that this official served King Amunhotep IV, the son and successor of Amunhotep III. Five years after Amunhotep IV became king, he changed his name to Akhenaten, dating this statue within a five-year period.
The two necklaces depicted here represent strands of gold disks, or the so-called Gold of Honor, presented to officials or soldiers who had preformed an unusual act of valor. Although the name of this man has not been preserved, he was obviously very important in his time.
Medium: Granite
Geographical Locations:
Dates: ca. 1353-1336 B.C.E.
Dynasty: XVIII Dynasty
Period: New Kingdom, Amarna Period
Dimensions: 22 1/16 x 11 5/16 x 10 7/8 in. (56 x 28.8 x 27.6 cm)
Inscriptions: Erased cartouches on right shoulder and right side of chest. The latter illegible, but the first must have belonged to Amenhotep IV. Inscriptions on rear of seat and two columns on back pillar do not preserve owner's name.
Collection: Egyptian, Classical, Ancient Near Eastern Art
Museum Location: Brooklyn Museum, BMA, EXHIBITION-3, ECAMEA-3G55
Exhibitions:
Accession Number: 69.45
---