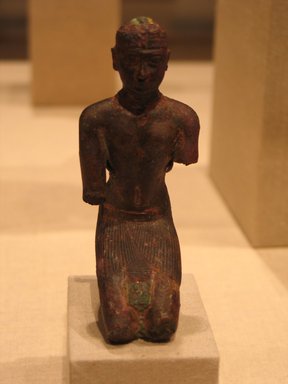 Statuette of a Kushite King
This statuette once depicted a kneeling king holding a pot in each hand in offering to a god. Although the style recalls statuettes of the Kushite king Taharqa, the identification remains uncertain because the sovereign's name has been erased from his belt. Either the damage was done by agents of vengeful native Egyptian kings of Dynasty XXVI, or the statuette may simply have been appropriated by a later king. Traces of gilding remain on the head and the kilt.
Catalogue Description:
One bronze figure, solid cast, of a kneeling king. The figure wears a "Shendyt" kilt, necklace, and a skull-cap with rounded tabs. The cap, decorated with row of circles, is secured by a band from the front of which spring two uraei. Two "streamers" descend from the top of the head down onto the figure's back. The eyebrows are represented in relief, and the torso is well modeled with a strong median line. There are traces of gold on the skull-cap. Condition: Front portion of both feet, left arm from below the shoulder, and right arm from below the elbow are missing. There is a large chip out of the left knee, and a crack in the right arm. Large areas of green corrosion on the headdress, back and sides of torso, kilt and lower part of legs; other small areas of corrosion. Small pits and scratches. Corrosion picked off cold in several areas.
---