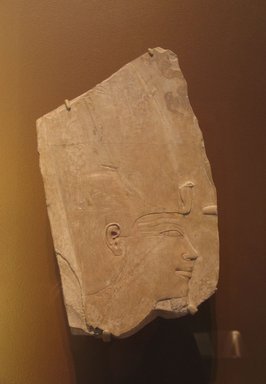 Relief of Amunhotep I
This raised relief shows Amunhotep I wearing a royal beard and the tall White Crown of Upper Egypt with a royal uraeus-cobra. The fragment comes from one of several chapels that Amunhotep I built within the Karnak Temple for the god Amun. These chapels imitate Middle Kingdom examples erected by Senwosret I of Dynasty 12, approximately four hundred years earlier. Certain features, however—including the curved iris of the eye, a long, curving nose with accentuated nostril, and a raised line around the corner of the mouth—typify Dynasty 18 style.
Catalogue Description:
Relief representation, in creamy-white limestone, of the head of a king facing right. Before his face are the partial remains of a cartouche. Condition: Mended from several pieces.
---