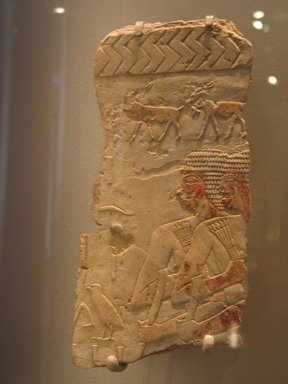 Attendants of Hatshepsut
The zigzag pattern on the band at the top of this fragment represents water. The original scene showed a religious procession of boats carrying statues of gods and kings. The two men depicted in this fragment were part of a long line of priests and royal attendants who accompanied the flotilla on the bank of the river or canal each carrying a long staff and a small bouquet. The regular celebration of processions such as the one depicted here reinforced the Egyptians' idea of cyclical time and the eternal repetition of events.
Catalogue Description:
A limestone slab with representations carved in low relief. Two goats with ankh signs around their necks are in the top register. In the center are two men with arms to chests and holding floral bouquets. Below are two arms holding staves. At upper edge is a river. Before the men is a column of inscription. Condition: Traces of red paint. Broken across lower third at left corner and across center and restored. Some nicks on surface.
---