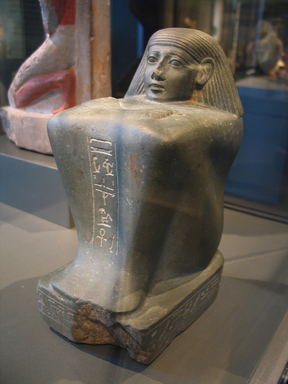 Block Statue of Min, Overseer of the Weavers
The texts on this statue identify the subject as a man named Min, an overseer of weavers. The block statue, invented in the Middle Kingdom, shows a figure sitting on the ground, often enveloped in a cloak from which only his head and hands emerge. This compact form was well suited to the heavily traveled outer rooms of temples. The broad, striated wig and the placement of the short inscription running vertically between the figure's knees suggest that the sculptor followed a Middle Kingdom prototype.
Catalogue Description:
Gray-green schist block statue of Min. Cloak envelopes entire body, except for his hands, the right one clutching a handkerchief.
---