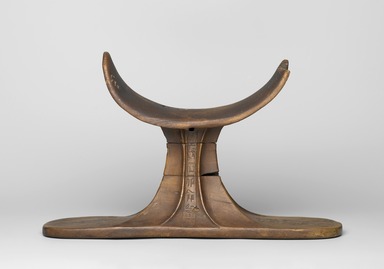 Headrest with Two Images of the God Bes
The deity depicted on this headrest was believed to protect the dead and the living, particularly women during pregnancy and childbirth, and young children. Although headrests were used during life, they could also be placed in the tomb later to aid the deceased's rebirth into the afterlife. Most Egyptian headrests have come from tombs, where the conditions were better for their preservation.
Catalogue Description:
Wooden headrest made in three pieces; top, small central part of column, and base. The pieces are joined together by means of tenons and pegs. A rectangular plug of wood in the top appears to hide one tenon. The supporting column is fluted. On one side of the support is incised an inscription. At either end of the base is an incised representation of the god Bes. In one case he holds out an object in each hand. In the other representation he appears to hold what could be a schematic representation of a headrest. "An offering which the king gives to Maat for the ka-soul of the retainer, Peh-erw-aa(?)" Condition: Chipped and scratched; some holes, especially on top.
---