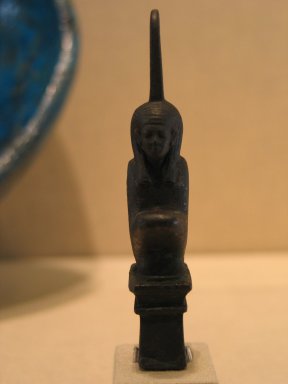 Statuette of the Goddess Maat Seated on a Shrine
Catalogue Description:
Figure of Maat perched atop a short column with capital. The piece seems to have been made as a terminal for a staff or some other ritual implement. Maat is represented as seated, her legs drawn up before her, and dressed in an enveloping robe. Atop her head is the ostrich feather. Condition: Black patina covers the piece. Large area of pitting on rear. Right side of face slightly rounded by wear.
---