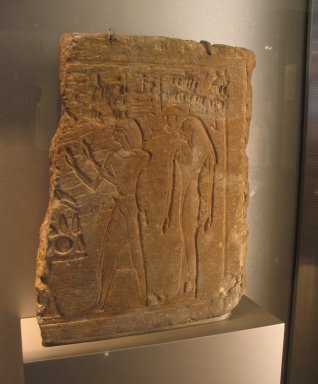 Fragment of Lintel
This fragmentary scene depicts a man named Amunemhat and his wife. Both face an offering table covered with different kinds of bread and a bunch of green onions. Amunemhat raises his arms in reverence toward a figure, now lost, on the opposite side of the table. This figure may have been the god Osiris or perhaps the owner of the tomb, most likely Amunemhat's father. In the latter case, Amunemhat's gesture would indicate his responsibility for maintaining the parents' funerary cult, the traditional duty of a tomb owner's eldest son.
Catalogue Description:
Fragment of a sandstone stela. Preserved is the right end which bears representation of an offering table surmounted by offerings (right hand portion only preserved) to the right of which are a male and female facing left. The man holds both his hands up before him. Behind him the woman stands with her arms at her sides. Above the man is an inscription. Above the woman is an inscription. Both these figures stand a tiny bit above the base line which supports the offering table. The figures are tall and thin. The technique is crude shallow sunk relief. Condition: Diagonal gouges across ground, but not across figures.
---