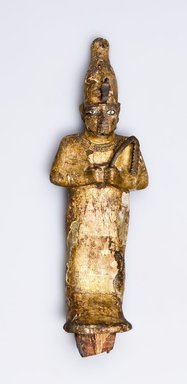 Osiris
This statuette, one of whose eyes was repaired in ancient times, may have been a pious gift to one of the temples associated with the important animal cemeteries at Saqqara. For information on so-called sacred animals and the god Osiris, see the installations in Temples, Tombs, and the Egyptian Universe.
Medium: Wood, gessoed and gilded, paste, bronze and electrum
Geographical Location: Saqqara, Egypt
Dates: 4th century B.C.E. or later
Dynasty: XXX Dynasty, or later
Period: Late Period to Ptolemaic Period
Dimensions: 7 13/16 x 2 3/8 x 1 9/16 in. (19.9 x 6.1 x 4 cm)
Collection: Egyptian, Classical, Ancient Near Eastern Art
Museum Location: Brooklyn Museum, BMA, 3MZM12, 31-TOP
Accession Number: 37.1374E
Catalogue Description:
Standing mummiform figures of the God Osiris. Wood covered with gold leaf and having some bronze accessories. The god wore the white crown flanked by feathers; the arms are indicated through the mummy wrapping and the hands exposed, knuckles meeting and each originally holding an attribute. Only the fly flap of is preserved, held in left hand against left shoulder and arm. The figure is provided with a collar which meets behind, and consists of two rows of vertically radiating beads (with narrow ones between). It is not apparent whether the vertical strips behind are a part of the collar or belong to the crown. They appear to hang from the crown. The entire figure was carved out of a single block of wood. The accessories separately added include 1) bronze uraeus on the front of the crown; 2) the feathers of the crown for which two dowel holes are visible on backside of each crown, 3) the eyes probably of glass or paste, 4) the beard and its straps (material not evident), 5) the attributes in the hands. The latter are closed and round holes are drilled for the reception of the fly-flap and scepter. Material of the one remaining attribute probably wood. The entire figure received a layer of stucco on which gold leaf was laid. The details of the collar and ends behind modeled. The details of the collar were not carved in the wood but modeled in the plaster before the god leaf was applied. Condition: The surface is considerably darkened (by resin?) thus the material of the eyes, and other accessories is difficult to determine. Some gold leaf and stucco has dropped off. Figure has lost feathers from the headdress, the beard and part of the inlay representing beard straps. It has also lost its hk scepter and both base and pedestal. Modern glue clings to the foot; there must have been a mount to which it was fastened. There is sand gathered under its right ear. The uraeus is plain. The beard-straps were not metal but paste. The eyes look like ivory to which the pupil was added in black paste (to a flattened, perhaps somewhat roughened surface).
---