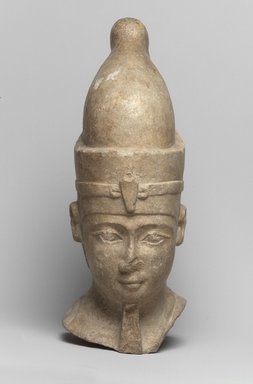 Head of a King
Both of these heads have several features commonly found on royal sculpture from the end of the Late Period and the early part of the Ptolemaic Period: a slight smile, circular marks at both ends of the mouth, and a triangular area between the eyebrows and the root of the nose. The larger head, wearing the red and white crowns of northern (Lower) and southern (Upper) Egypt, has a needle-shaped back pillar.
Catalogue Description:
Limestone head of king wearing the Double Crown. the piece is preserved from just below the neck up. A back pillar tapers to a point on the upper rear part of the crown. Circling the lower part of the crown is a fillet, the streamers of which are executed in relief on both sides of the back pillar. A uraeus springs from the fillet at the front of the crown. the king wears a beard which does not envelop the chin but which "hangs" from below the chin. the chin itself is rather small. The lips are pursed with their corners being deeply set into the face. Also deeply set into the face are the inner corners of the eyes. The upper eyelids are provided with rather short cosmetic lines. the brows are curved and are treated, in a rather abstract manner, as the abrupt joining of the two planes: forehead and eyesocket. On the small part of the left shoulder which has been preserved are the remains of the modelling of the garment which the king wears. Condition: Left side tip of nose missing. Head of uraeus chipped away. Front surface of beard broken away. Chips along upper edge of red crown and in surface of white crown. Small chips also on cheeks and eyes. Back pillar also is chipped.
---