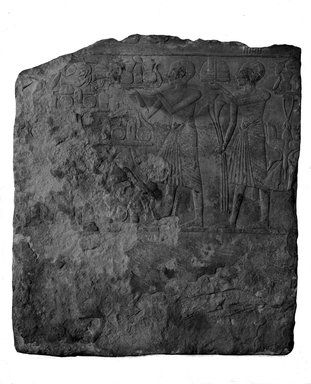 Relief of Offering Bearers
Among the most common motifs found in Egyptian tombs is the formal presentation of offerings. The complete scene to which this fragment belonged showed a row of men bringing gifts to an offering table laden with bread, meat, fowl and metal vessels probably containing wine. Of particular interest is the brace of ducks or geese suspended from a hand at the far right. The style of the faces and the elaborate design of the costumes owe much to the inspiration of the Amarna Period. The composition of the scene, however, is far more formal than similar designs executed during the reign of Akhenaten.
Catalogue Description:
Limestone tomb relief. At right, procession of funerary priests (two complete figures and portion of a third) bearing offerings. Priests have shaved heads and wear long, pleated skirts. At left, large mass of funerary offerings. Minute portions of lower portion of upper register preserved. Condition: Poor. Lower left portion lost as are adjoining portions of surface. Stone slightly salty. Remains of red paint on heads and bodies of priests. Lower portion was never worked; left edge had lost worked surface from salt action.
---