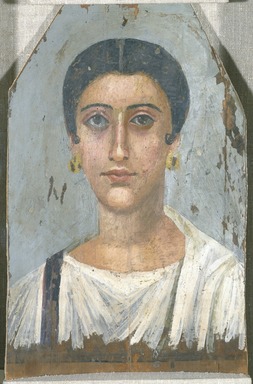 Portrait of a Noblewoman
Catalogue Description:
Panel painting on this wooden board, so-called Fayum painting, of a young woman with close-fitting black hair, pink skin, black eyebrows, dark brown eyes, red lips, gold earrings dressed in a white garment which is only summarily indicated. Strap over her right shoulder; background light blue-grey. Encaustic technique. Condition: Wooden panel warped and split length-wise in several places; paint missing in numerous spots baring wood underneath. Some deposit of brownish foreign matter (like drips of mud) on hair and face primarily.
---