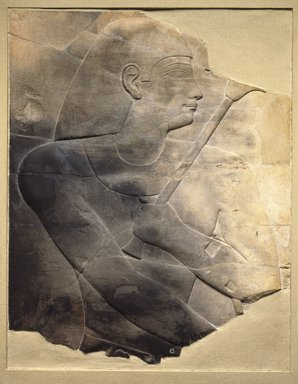 Relief of a High Official
Catalogue Description:
Raised relief in limestone. Upper half of a figure of a nobleman facing right. The figure wears a plain wig and broad-collar necklace. His far hand is raised to his chest and holds a floral scepter (partially preserved). His near arm is extended forwards and downwards, and his missing near hand held an object (staff?) of which is preserved below the far forearm. Condition: Far elbow missing. Large chips in near forearm and before and behind head. Numerous long cracks, and much of the surface blackened by smoke. Object is set in plaster frame.
---