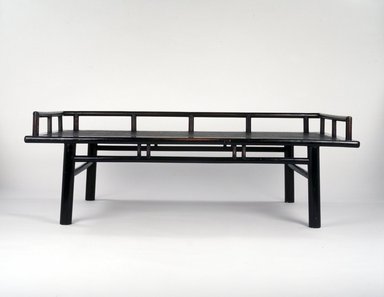 Daybed
Traditional Chinese softwood furniture uses the same frame construction as hardwood furniture. joined and fastened with wooden tenons matching the grain of the various parts. This bench, with its pleasing proportions, three low railings, and rounded horizontal stretcher, could have been used in a bedroom or a scholar's studio. The soft caned seating area may have been restored, as evidenced by the wooden panel support, a common restoration device for Chinese furniture.
Catalogue Description:
Long low bench with back and side rails, constructed of standard mitered, mortised, and tenoned frame construction, with four round legs and cantilevered seat, hard mat seat, and arms and back with eleven stancheons. Below this is a shaped and rounded horizontal stretcher. Wood is stained with black lacquer. Condition: Stable. Two gaps in lacquer on top front of seat, at right and at left, directly above the legs.
---