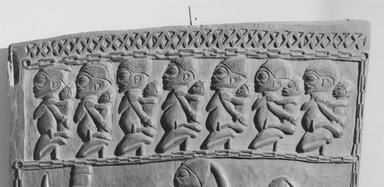 Door (Ilekun)
Doors carved in low relief are often located in places frequented by people of special distinction—rulers, elders, priests—as well as gods and ancestors. The motifs of the mother and child, the equestrian figure, and the warrior-hunter carved here are among the most common themes in Yoruba art.
Catalogue Description:
Carved wood door, divided into four horizontal bands, each with scene in bas relief. Band one- 7 mothers with children on back. Band 2- warlord flanked by two attendants, one of whom is a staffbearer. Band 3- two warriors holding net for hunting. Band 4- warriors with rifles sheathed. CONDITION: Good, top left corner lower than right.
---