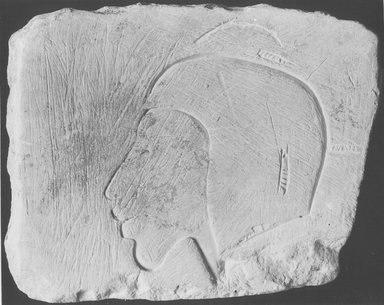 Trial Piece of Akhenaten
Catalogue Description:
Limestone trial piece of Akhenaten showing profile of the head of a man with simple headdress. The features are typical of those found on images of the young king. There is no mark of royal rank and no trace of color. Condition: The face is badly marred by scratches which are obviously ancient. There would seem to be made by the artist when he discarded the piece as cancellation marks. Possibly they were made after Akhenaten's death but this does not seem probable. There are other chips and scratches on the surface.
---