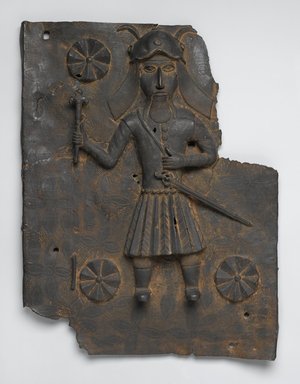 Plaque
Portuguese explorers and traders arrived by sea in the kingdom of Benin in 1486. Representations of the Portuguese were quickly incorporated into the art of the royal court. They are invariably represented wearing sixteenth-century European dress, and have long hair, flowing beards, and moustaches. These depictions symbolized the wealth that the obas (kings) of Benin derived from foreign trade. One of the chief commodities imported from Portugal was the copper from which the plaques were made.
Catalogue Description:
Full figure Portuguese warrior, holds mace, cap with 2 feathers, flowing hair, beard, wears skirt, sword, 3 rosettes in background, chased surface with floral motif, figure also shows elaborate surface treatment. Condition: Extensive metal losses upper right corner, smaller one lower left corner.
---