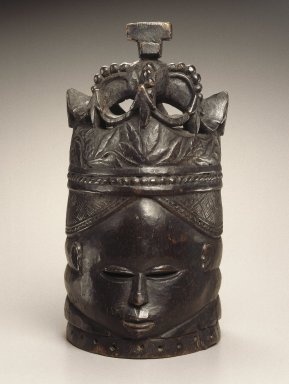 Helmet Mask (ndoli jowei) for Sande Society
The ceremonies of the Sande society are the only occasions in Africa in which women customarily wear wooden masks. Masks like this one represent the society's guardian spirit at public events such as funerals or the installations of chiefs.
The features of the mask illustrate the group's ideal of feminine beauty, with a broad, high forehead, small narrow eyes, and an elaborate coiffure. The elegant hairstyles also symbolize the importance of social cooperation, since a woman needs the help of her friends to dress her hair.
In Sierra Leone and western Liberia, each town has a Sande society that includes all of the women in the community. It represents them and binds them together as a powerful social and political force. The Sande society is one of the most influential patrons of the visual arts in West Africa.
Catalogue Description:
Female with European style crown as headdress. Bulging forehead with features clustered in bottom half of face. Large coffee bean eyes with slits, small nose and mouth. Plump ringed neck, small flat ears. Hair is indicated by relief diamond pattern. Crown has flower and leaf pattern surmounted by four bridges joined to a central knob. Holes around bottom of mask for attachment of costume. Crown headress supposedly taken from coins of Queen Victoria. Condition: Excellent; scattered small nicks all over, rim crack above right ear and at back left of crown.
---