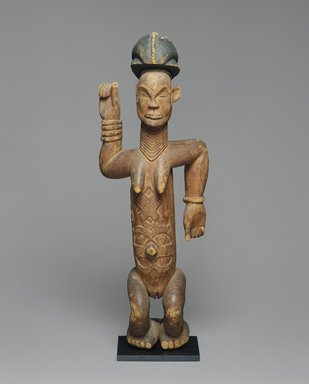 Standing Female Figure
This figure illustrates philosophical and religious beliefs shared by a number of related peoples. The cross on the figure's torso and the diamond on its forehead refer to the "four moments of the sun"—dawn (beginning of life), noon (life at its fullest), sunset (the end of life's journey), and finally, for those who lead exemplary lives, a second dawn (rebirth). The figure's raised right arm points to the zenith of the sun at noon, while the left points to the afterworld and the ancestors buried in the earth.
Catalogue Description:
Female figure with long torso standing on short flexed legs. The arms of the figure are bent at the elbow with the right hand upraised and the left hand held down at the side, with thumb pointing downwards. Crested headdress and crosshatched diamond scarification on forehead. Elongated neck covered with ringed necklace; wrists have bracelets. Elaborate scarifciation patterns on torso, including a cross-form. Enlarged navel and exposed vulva. Black pigment on headdress; red tukula pigment on body. CONDITON: Second finger and a portion of the thumb broken off left hand. Small finger on right hand worn. Part of middle toe of left foot broken off. Figure frayed. Left side of head and temple battered. Insect damage on left side of upper elbow.
---