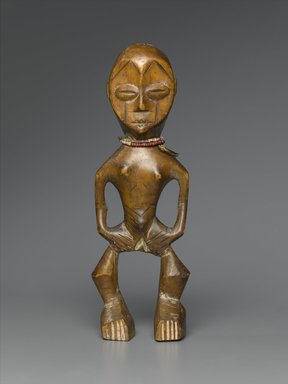 Figure (Iginga)
The Bwami society is a men's association dedicated to the promotion of moral perfection and wisdom. The society and its members are the greatest patrons of Lega art. They commission a wide range of ceremonial objects, each having a specific name and function. The warm brown surface of this softwood figure is the result of extensive handling. The white pigment is kaolin, a type of riverbank clay.
Catalogue Description:
Female figure standing with legs apart and hands resting on hips. Around the neck are two necklaces, one of white beads and one of red beads. The face is heart shaped with triangular incisions at forehead. Eyes are almond shaped. There is a verticle incision on each cheek and incised lines on the lower torso. Knees bend outward. Block feet have vertical carvings for toes. Female genitalia indicated. CONDITION: Generally good. There is a check from top of left side of head in back that extends to waist. Gouge on top of head. Figure is attached to a modern metal stand.
---