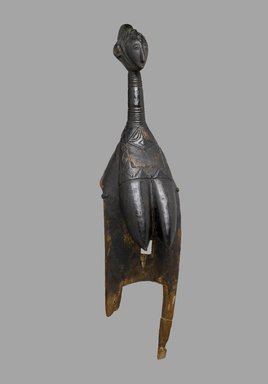 Shoulder Headdress (Zigiren-wunde)
This headdress comes from the northern Baga region, where it is known as zigiren wunde or "the new bride." Unlike most African masks, the zigiren wunde doesn't represent a spirit. Rather, it celebrates the role of women in both human and agricultural fertility, and in nurturing the community.
The zigiren wunde is owned and performed by groups of young men solely for entertainment, especially at weddings. The performer wears the mask on top of his head and holds the leglike projections beneath the breasts in his hands in order to steady it. These extensions and the "shoulders" are draped with cloth, leaving the breasts exposed. The costume is completed with the addition of a skirt of palm fiber.
Catalogue Description:
Wooden shoulder mask (Nimba pefete) or (Zigiren wunde) in form of female torso with large pendulous breasts, used by the Simo secret society. The figure does not have arms. The head is small. The neck is ringed at the top and at the bottom; the center of the neck is plain. Figure wears a carved diamond shaped pendant necklace. Beneath the breasts is a square shaped opening. Copper beads are inserted in the eyes. Head has a crescent shaped coiffure with chevron design. CONDITION: Portion of right shoulder support broken off, remaining part is attached to a sturdy armature. Base of left shoulder support is set into modern base. Checks on front lower side (left) and on chest area. Some splitting of wood on left side of breast. Pitting throughout piece.
---