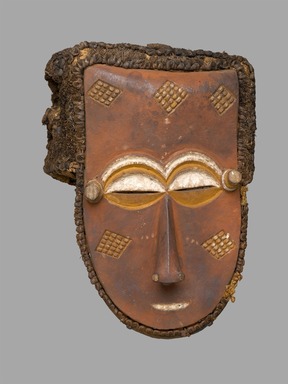 Mask
Lele masks are rare and little is known about their use. Stylistically, they are similar to those of their neighbors, the Kuba, in the distinctive use of bright colors. Lele masks have flattened faces, strongly delineated eyebrows, and a predominant red color.
Catalogue Description:
Facial portion of mask carved on a relatively flat wooden plate,squared on top and curved at bottom. Eyes are almond-shaped with narrow open slits in the center. There are three deeply carved continuous heart-shaped linesover the eyes, and one underneath. The areas between contain white and ochre pigment; the areas under each eye ochre only. The nose is in high relief- long, tapered and flared slightly at the nostrils. The mouth is a small slit with white pigment. The forehead is slightly convex. There are three diamond shaped cicatrizations on the forehead and one on each cheek. A knob in very high relief appears on either side of the eye. A raffia trim attachment outlines the face, and there is an elaborate raffia cap-like headdress. Condition: Very good. There are raffia losses on top of the headdress , but it is stable and not shedding. Pigment around the eyes is beginning to flake slightly.
---