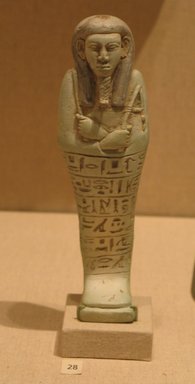 Ushabti of Senkamanseken
Catalogue Description:
Blue glazed faience ushabti of Senkaman-seken (633-613 BC). The ushabti is of the later type with inscribed plinth running up the back; lappet-wig; hands crossed with one hoe and one cord, inscribed with 6 horizontal registers of hieroglyphs. Wig and beard have a dull purple glaze; balance of figure greenish-blue. Workmanship good. Condition: Glaze worn, otherwise excellent.
---