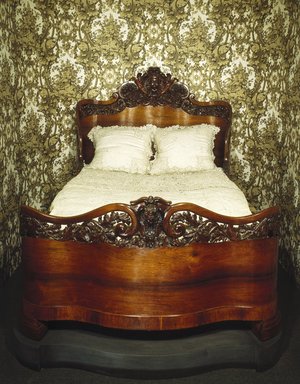 Bed
Renowned for his patented laminated furniture embellished with deeply carved, naturalistic ornament, John Henry Belter popularized the Rococo Revival in the United States. Widely imitated by his contemporaries, he skillfully combined traditional woodcarving with machine-assisted construction. In addition to protecting his inventions, Belter also employed his patents as marketing tools. This rare bed, the most elaborate version created by Belter is stamped with the patent date August 19, 1856. The patent registered a unique bed assembly.
Catalogue Description:
Victorian bed; laminated rosewood with carved and pierced decoration; head and foot are serpentine in shape surmounted with carved decoration of oak leaves and acorns and a central carved cartouche of an angel. A short section of the side rails is carved and upholstered in striped satin material. There is a box spring mattress and a mattress. Condition: good.
---